Preventative Maintenance Will Help You Sleep Like A Happy Baby…
Computers will always malfunction, laptops will break down, servers will go offline, and networks will become unavailable.
These types of things cause downtime.
Downtime is the time during which a machine, especially a computer, is out of action or unavailable for use.
–
With downtime comes costly expenses and the inability to be productive, causing huge headaches.
Unfortunately, it's impossible to predict when these things will happen.
Although you never know when the above scenarios will happen, you can take preventative measures to avoid a lot of them.
Preventative measures also help discover computer problems before they become costly and time-consuming.
As Benjamin Franklin said,
"An ounce of prevention is worth a pound of cure."

-Benjamin Franklin
–
By taking action on this advice, you can avoid a ton of wasted time, unnecessary headaches, and unnecessary expenses.
Putting regularly scheduled preventive maintenance (i.e. on-going system updates and optimizations) in place can protect and even extend the life of your technology.
This leads to having more secure, higher performing computers that will last longer and have more uptime.
This also lowers the risk of major disasters happening. Disasters like data loss or server crashes can cause operational interruptions or damage to your business and its reputation.
Keep in mind that:
60% of businesses will close their doors within 6 months of a data disaster.

-Boston Computing Network
–
Preventative maintenance and optimization is crucial to any business that wants to get to the next level. Inefficiency due to slow computers or other technology hurdles will only slow you down.
On top of that, a main goal of preventative maintenance is to discover and mitigate computer problems before they become costly and time-consuming.
With all that said, consider the benefits of the following preventative maintenance tasks (some of these may be a bit technical):
---
Task: Automatic and regularly scheduled hard disk defragmentation (the reorganization of data stored on hard drives to make them more efficient).
Benefit: Keeps one of your main components (hard disk) running at peak performance. Most times this is the component that slows down computers the most.
Task: Automatic installation of Operating System (Windows) security updates and patches.
Benefit: This keeps your Operating System up-to-date by providing fixes to security holes and vulnerabilities that arise over time. These updates resolve well-known and identified software bugs.
Expand the list for more benefits...
–
Tasks: On-going clean up of your temporary and unnecessary files (includes old / unused program) along with Windows registry scans and Startup environment clean up.
Benefits: Overall system performance improvement. Faster system boot-ups. Frees up disk space.
Task: Current hardware review / inventory and recommendations for upgrades if necessary for uninterrupted system functionality.
Benefit: Proactively plan for hardware upgrades and replacements to prevent unanticipated problems.
… And more.
–
Imagine having all of this done for you without you having to think about it…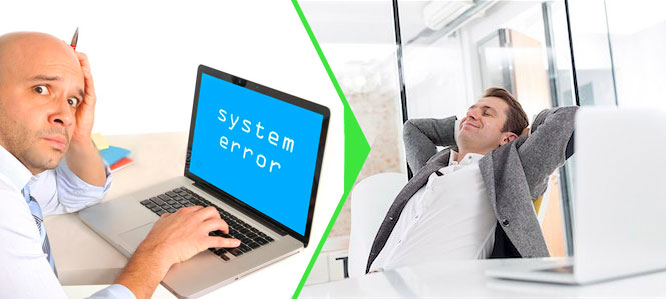 It's also worth noting that the implementation of preventive maintenance can be very time consuming for businesses to do it for themselves.
In most cases, to save time, it's best to have qualified engineers implement and manage the preventative maintenance tasks.
Also, with a properly operated preventive maintenance program, IT equipment downtime is decreased and the number of major repairs is reduced – saving you money.
There's also better conservation of assets and increased life expectancy of assets which eliminates premature replacement of equipment.
Over time, preventative maintenance will relieve a lot of your stress and save a lot of money, time, and productivity.
Ready to make things easier on yourself?


–