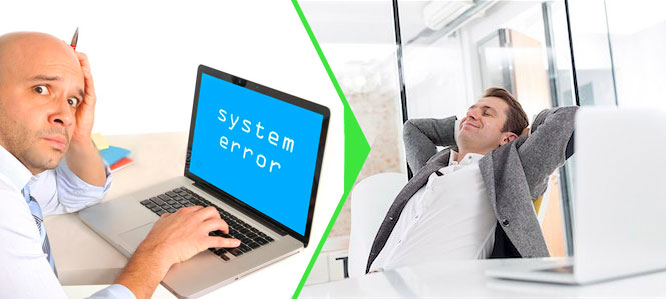 The "Before and After" of Moving From Reactive To Proactive IT Management…
More and more businesses like yours are changing their tune.
They're beginning to realize that preventing system issues is way more valuable than waiting for something to break before getting it fixed.
For example, let's say you have a server that your 5 people in the office always use.
This server has a lot of company and customer records that everyone in the office needs access to – in order to do their various jobs.
When that server crashes, none of the 5 people in the office will be able to access the resources they need.
This puts a massive dent into your business' productivity.
From there, you have to get a hold of someone who knows how to fix the server and get you back up and running.
That server person will still have to diagnose, tweak, and do whatever they have to do in order to get everything back to the way it was.
While all of this is happening:
You're now paying a server person to fix your server;
None of the 5 people in the office can do what they need to;
Communication with customers may be delayed or interrupted – causing possible reputation damage;
You may be losing revenue due to the inability to access the server data in order process orders.
This is an example reactive situation and can happen with other technology components as well (i.e. your office network(s), computer(s), printer(s), etc.).
As you can see, a reactive situation like this can be very costly.
Proactive IT Management (Managed Services) performs routine maintenance specifically to avoid these types of situations.
The table below illustrates differences between Reactive vs. Proactive IT Management when it comes to resolving issues (like the example above):
Reactive IT Services Model
(aka "Break-Fix")
|
|
Proactive IT Services Model
("Managed Services Provider" or "MSP")
1. An IT issue is detected by you or your worker(s).
|
|
1. An MSP conducts oversight of your network and IT assets 24 / 7 / 365.
2. You contact your IT solution provider.
|
|
2. The MSP is alerted via IT tools to a potential issue or an issue about to occur.
3. Once you reach your IT provider, you describe the issue as you understand it.
|
|
3. A centralized dashboard allows for remote diagnosis and remediation of the issue by the MSP - without disruption to your business flow.
4. If the issue cannot be resolved via email or phone, your IT provider will need to travel to your location.
|
|
5. Once at your location, the issue is properly diagnosed.
|
|
6. The issue is resolved.
|
|
---
As you can see, Proactive IT Management is about keeping your business functioning along with preventing technology issues and downtime.
This is to maximize the productivity and up-time of your business.
Imagine having technology experts monitoring your computers, servers, and networks 24 hours a day, 365 days a year to help you avoid situations like the above.
This is where Managed Services comes in.
Prevention is the key and managed services aims to accomplish that.
It can help avoid (and remedy) situations like:
A widely-used server crashes.
A server that everybody uses on a daily basis that is so slow that it takes 3-5 minutes to access any of the files on it.
Your network or Internet connection is so slow that it takes forever to access your email.
All of your computers in the office freeze all the time and are super slow – in fact, they're so old that nobody in the office can remember how long it has been since they've been upgraded or updated.
In situations like these, technology is getting in the way of your business growth and productivity.
It's not until your business comes to a grinding halt and nobody in the office can do anything before the issues are addressed – this can be a very expensive mistake.
With that said, Managed Services helps your business use technology to its advantage instead of it being an obstacle.
Many businesses today continue to use the reactive model and handle IT issues as they arise – utilizing Managed Services will give you a competitive advantage.
Below is another comparison of the Reactive vs. Proactive approach:
REACTIVE IT SERVICES MODEL
(AKA "BREAK-FIX")
|
|
PROACTIVE IT SERVICES MODEL
("MANAGED SERVICES PROVIDER" OR "MSP")
Tech support can only fix what is broken.
|
|
Systems are kept in optimal running order.
Something breaks and then someone fixes it.
|
|
Computers are monitored proactively to check for potential warning signs before problems can occur.
Reactive Solutions.
|
|
Proactive Solutions.
Company notify techs when system breaks.
|
|
Techs are notified of problems automatically.
Lack of planning results in costly downtime.
|
|
More reliability and up-time of critical systems.
Harder to manage IT costs.
|
|
Can easily manage IT costs with all-inclusive pricing.
---
On top of all of that:
"Among current users of managed services, 46% of firms have trimmed their annual IT expenditures by 25% or more as a result of their shift to managed services, including 13% that have slashed annual IT expenditures by 50% or more on the IT functions they have given over to an MSP."

-CompTIA, Trends in Managed Services study
–
It's easy to see the benefits of becoming proactive with Managed Services!
Are you ready to make your business more productive and less risky by using Managed Services?