Backup and Disaster Recovery, also known as "BDR", is a combination of data backup and disaster recovery solutions that work cohesively to ensure a company's business continuity.
It differs from just backup because it isn't simply about creating a copy of your most important files.
A BDR solution ensures that business operations can continue in the event of hardware failure, data corruption, or other disasters (e.g. natural disasters, etc.).
Backing Up Data
This day and age, it's advised to backup data to the "cloud." The cloud is essentially a server or data center that is off-site at a different location.
It's also advised, as in other backup scenarios, to backup data regularly. The frequency of the backups is usually determined by how often the data actually changes – this could be hourly, daily, weekly, etc.
Backups are essentially done in case the primary versions of data are lost and / or the systems that create and manage that data – crash. In other cases, it could just be that the original data gets deleted or changed accidentally.
Either way, the possibility of system failure is one of the top reasons for backups.
Disaster Recovery
When it comes to Disaster Recovery (DR), keep in mind the terms "Backup" and "Disaster Recovery" are not interchangeable. Disaster recovery, however, is not possible without first having a completed backup.
Disaster recovery is actually having the tested resources in place that get systems restored and functioning as quickly as possible. This includes the associated backup data along with accounting systems, operation systems, sales systems, etc.
On a side note, disaster recovery is cheaper, quicker, easier, and more complete with virtual systems in place.
Also note that the above descriptions obviously don't get into technical details. Any and all Backup and Disaster Recovery solutions are usually unique to a business or operation.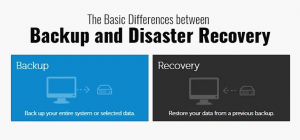 Why Small / Medium Businesses Need BDR
The sad fact is that there's no way to predict the future. Computer components malfunction unpredictably, cyber-attacks are on the rise, and natural disasters may strike with little to no warning.
To ensure data is secure, it needs to be backed up and quickly recoverable so downtime is minimal when the unforeseeable happens.
An effective BDR solution can provide you with the security and reliability that you need, and it can help protect you against the many different forms of disaster. 
Recoverability – An astonishing 40% of businesses aren't able to recover immediately after a disaster. Therefore, the ability to resume operations quickly while swiftly regaining access to files and data could be the difference between successfully recovering after a disaster, or closing your doors for good.


–


A strong BDR solution will allow you to convert a backup into a running system in a matter of seconds, which will maximize your chances of fully recovering.


–

Reduce Downtime – Downtime is one of the biggest IT expenses that any business can face. Even an hour or two can result in significant costs and cause internal business operations to come to a standstill.


–


Suffering from extended downtime leaves business playing catch-up, which is why you see such a high percentage of businesses unable to recover from a disaster within 6 months to 5 years.


–


In the event of a disaster, a BDR solution can provide complete system replication, which allots users a complete infrastructure to host their business on. This will help reduce downtime and enable your business to resume normal operations after a disaster.


–

Reliability – Having a BDR solution is the only way to disaster-proof your business because should any problems arise, you'll have a reliable safety net to fall back on.


–


Not only will quick and frequent backups limit data loss, but having a proper recovery process is in place can help mitigate other damages in the long run.
What to Look for in a BDR Solution
BDR requirements can vary from business to business, but here are some key features that BDR solutions may include:
Hardware Compatibility
Modern BDR solutions should offer flexibility and compatibility across a number of computers and servers, giving you the opportunity to extend that flexibility to your workers.
Flexible Pricing Model
Every business has varying needs, so look for a BDR solution that is designed with you in mind. To keep your margins where you need them to be, look for a vendor with a pricing model that works for you as well as it works for them.
Proven Recovery Time
Downtime is costly, so it's important that you're able to recover your systems quickly and easily. Look for a vendor that will give you an advantage by promising recovery times that are measured in an acceptable time interval (i.e. minutes, hours, etc.). 
24x7x365 Support
Since disasters aren't constrained to normal business hours, a fully-managed BDR solution will provide the around-the-clock support your workers need. This will save them time and prevent them from getting tangled up in mundane problem-solving.
Redundancy and Cloud Support
Search for a BDR vendor that leverages the cloud for additional security and recoverability, and has virtualization capabilities to keep things running when disaster strikes.